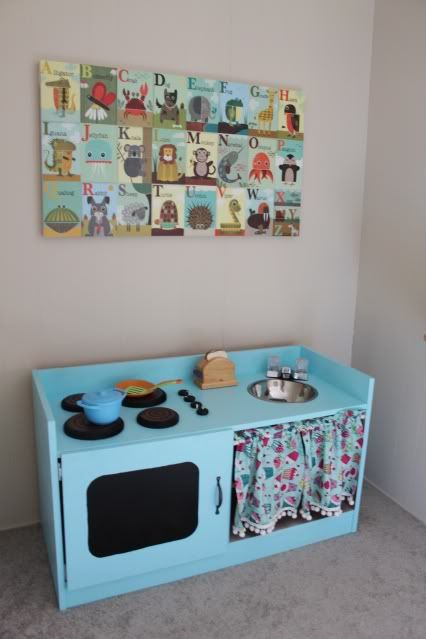 I've been meaning to get this up for some time, just haven't had the time to sit down and type it all out. So here it is.

As I mentioned, I wanted to make Annamarie a play kitchen for Christmas instead of buying one for $100+. I decided to take pictures as I went along to make a little mini tutorial. Not completely comprehensive, but to give an idea of how I did things. I've seen various tutorials, and loved looking over them for inspiration. Hopefully my post will do the same for someone. Price breakdown will be at the bottom.

I was keeping my eye out for something that I could make into a play kitchen. I thought about doing a huge tv cabinet, but with the move coming up and just a lack of extra time, I started looking for something slightly smaller.

I ended up finding an old stereo cabinet that I knew would work perfectly at a local thrift shop for $15. This is not the best picture because I forgot to take one right away, but on the left it originally had slots for putting albums in.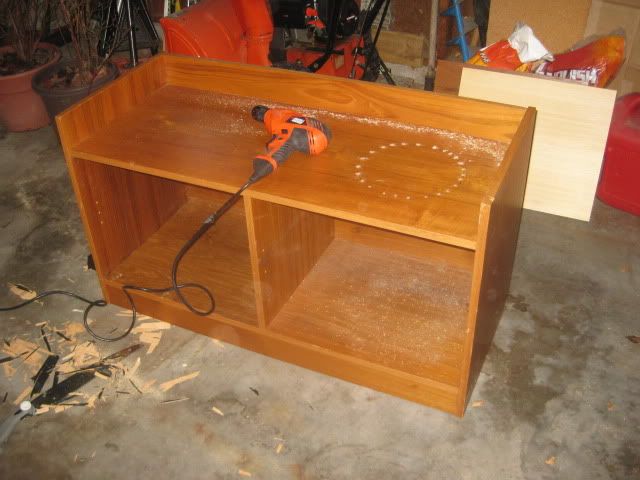 The slots were actually just held in by two particle boards and after pulling the staples out, we were able to selvage one of those boards and turn it into the oven door. So one less step of buying particle board and cutting it to size!

As you can start to see in the above photo, we put the sink on the right side. We cut a hole to size and put a metal bowl in there and used a cheap faucet bought from Walmart.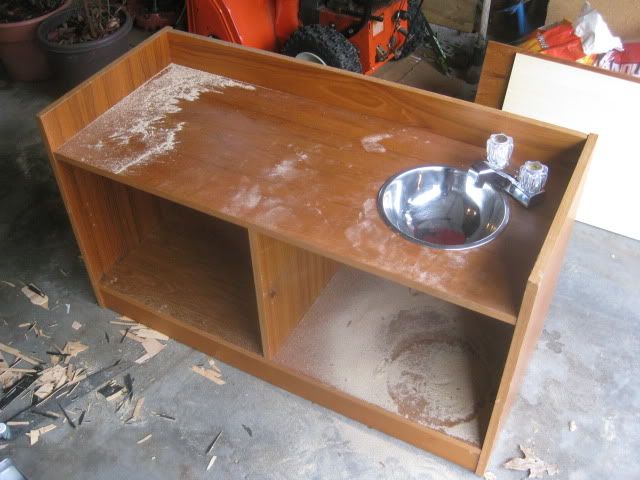 I bought a primer that was a spray paint that said it would cover plastic so I didn't even bother sanding the laminate. After I sprayed the primer on (I did two coats) I painted on my regular paint.



I really wanted the stove knobs to turn, so I just made up a way for them to do this. I had the wooden wheels on hand so I bought a dowel to fit inside them, then cut them to length, enough to fit through the play kitchen just slightly. Then I drilled a tiny hole in the dowel. I drilled holes in the kitchen large enough to fit the dowels and then put the knobs in the holes. To make the knobs not come back out, I twisted wire around the dowels, making sure the end wasn't sticking out to catch any child's hand.



I thought about just painting on the stove, and that would be cheaper, but decided to do raised ones. So I bought wooden circles from the craft store, painted them black and then painted red on them for the burners. As I said, the oven door was just a piece from the original cabinet, and we just put a knob on it and attached it to the kitchen with two hinges. Then I painted on the black "window".



To finish off the kitchen, I made some little curtains to put under the sink.

And this is my finished kitchen!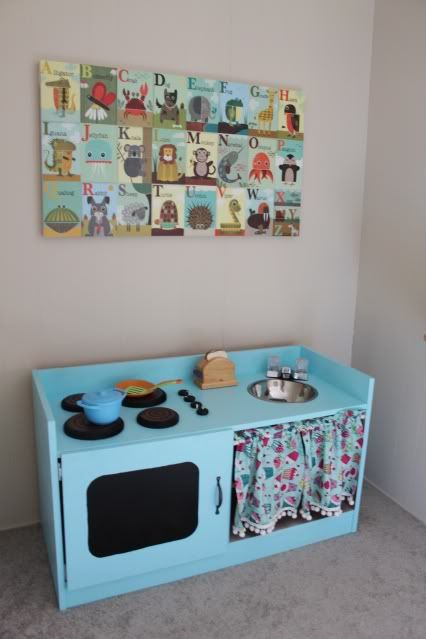 Our house has the perfect nook in the family room where all Annamarie's toys are for the kitchen too. I put up some 3M hooks to hold her apron and shopping totes.



Annamarie loves her kitchen! She doesn't really "cook" but she loves stirring things in the sink and storing all her toys in the oven. I love that it looks more like furniture than a huge plastic piece, and it's bigger than most play kitchens so it will grow with her and future kids.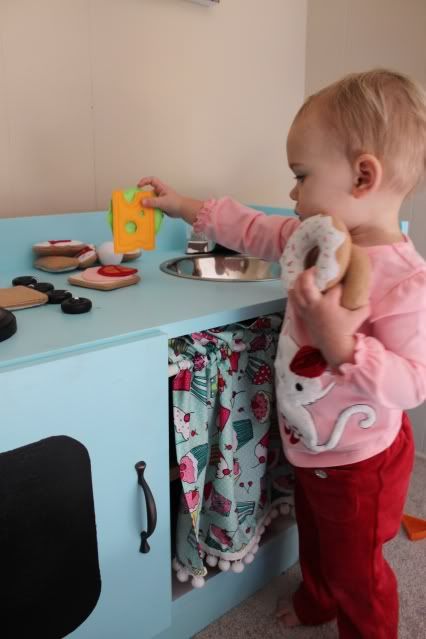 So far her favorite play food are these peelable and choppable foods that I got for her on Amazon.



And my mom got her a wooden sewing machine too, so she can sew like mommy!



To show how cheap you can do this if you don't have the money for a store-bought one, I kept track of things. Some are totally optional and would be cheaper if you didn't do them (I'll mark them with an *).

Cabinet from a thrift store - $15
Spray paint primer - $3
Small can of paint - $11
Metal bowl for sink from thrift store - $2
Faucet - $10
Hinges and knob - $3
Wooden plaques for stove* - $10
Dowel for knobs* - 0.50
Curtain rod* - $2
Fabric for curtain* - Free, used from my stash

Total spent - $56.50

You could spend less if you wanted, especially if you just used the color on the kitchen that was the spray paint color. And sometimes you can find free cabinets on craigslist too. But I like pretty, so I did some unnecessary things.

Hopefully this post helps someone get some ideas on doing a smaller sized play kitchen. I'd love to see other's if anyone makes one and wants to share!