I have been using Rockin Green soap for my cloth diapers for probably a year now. I used to use a store-bought powder soap on them, but was having horrible stink issues. Anyone who cloth diapers probably knows what I'm talking about. The minute there's pee in the diaper, it smelled terribly like ammonia. And the wet bag hanging on the changing table? Ew. So I went searching for a new alternative and switched to Rockin Green and have never looked back.

I love that Rockin Green has various scents but they aren't overpowering and after washing the scent is just slightly there. I never wanted my baby to smell like perfume, so the light scent in my opinion is one of the best selling points. The soap washes out really well in my laundry as well so I don't get build up of soap on my diapers and despite there being tons of suds in the wash, my diapers get so clean and many of the stains come out without anything else.

Since switching, I haven't had these build up problems and it works really well with my water type.

However Rockin Green isn't only for cloth diapers. I know many moms who use it for their own children's laundry because it is dye free, has no fillers enzymes or brightners and is vegan and 100% Phosphate free. They also have formulas made for your specific water type!

I haven't tried all the scents, so I asked Rockin Green to review some, and they sent me the following scents: Barenaked babies (unscented), Motley Clean, Smashing Watermelons, and Lavender Mint Revival.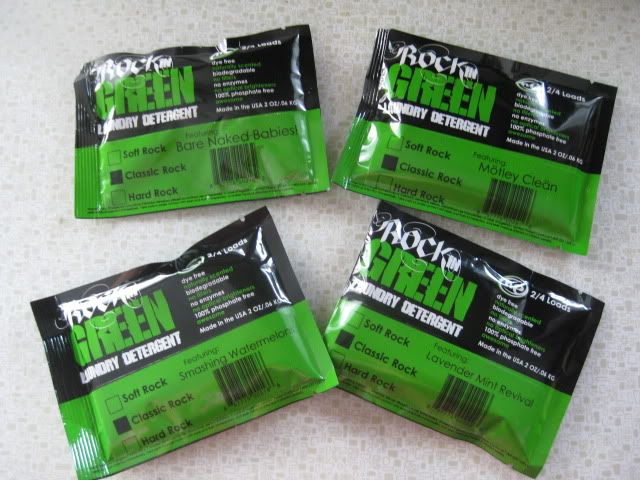 Of the scents they sent me, I think Smashing Watermelons is my favorite since I like fruity scents. Lavender Mint Revival is a nice clean scent, but overall the scent I mainly use is Rage Against the Raspberry.

Suffice to say, I love Rockin Green soap. Want to try some for yourself? Rockin Green has graciously allowed me to host a giveaway for a full 45/90 load bag in your choice of scent! Simply enter via the Rafflecopter form

Giveaway ends next Tuesday, Feb 5th at noon.

a Rafflecopter giveaway