About a week ago a neighbor had a garage sale. After it was done, they left this old, grey, weathered picnic table outside with a FREE sign on it. I saw the picnic table and told Steve we needed it. He was a bit skeptical, because honestly it looked old. I didn't take a before picture, but imagine the old weathered grey fences you see. It looked like that. Obviously it had been outside some time and hadn't been stained in forever.

I told Steve I had a great idea for it, so he took the truck and we went and got it.

So, when we got home we had some deck wash left over from when we stained our deck earlier this summer. After that we sanded the top and benches down. The next day I stained the seats and base, again with stain that we had left over. And then I had chalkboard paint left over from a project probably 2 years ago now. So we didn't spend anything on the picnic table, which was awesome.

This is how it turned out. Awesome. I laughed and told Steve that he totally didn't believe me when I knew it would be awesome. Just how he didn't really see how my play kitchen would turn out as good as it did either.



And now, when we have people over we have more seating too. It gets pretty chalky, but we've already hosed it down and it cleans off perfectly! Not entirely sure how well chalkboard paint holds up during winter, so we might put a tarp over it in the winter.

But Annamarie loves it! I think it's awesome :)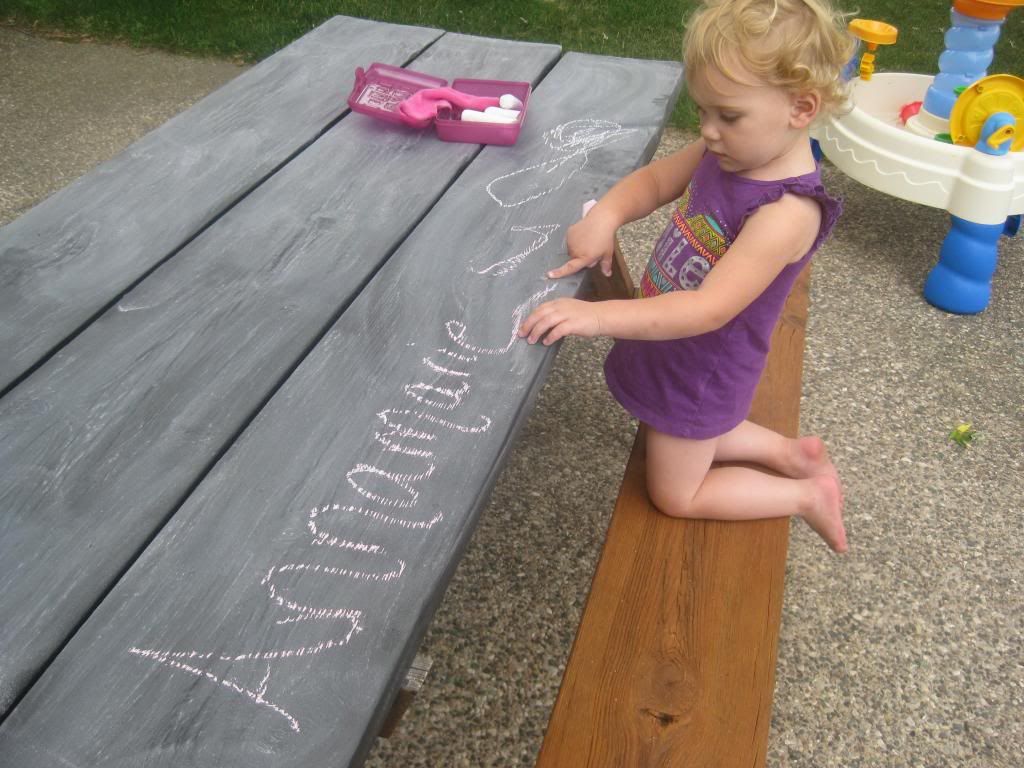 The only thing I bought was that plastic pencil case for a whopping 47 cents to store the chalk in so it doesn't get all wet.




I wanted to paint the picnic table a fun color, but stuck with what was free and we already had. It looks a bit classier stained anyways. So, just an idea if you have an old picnic table that needs to be redone, or see a free one sometime!